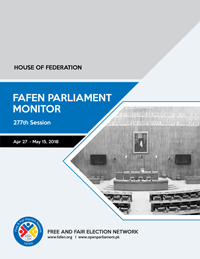 ISLAMABAD, May 18, 2018: The Senate passed 14 government bills and two private members' bills during the 277th session that continued between April 27, 2018 and May 15, 2018.
The session comprising 12 sittings also adopted three resolutions and took up four Calling Attention Notices (CANs). According to FAFEN's headcounts, on an average, 18 (17%) lawmakers were present at the commencement and 17 (16%) at the adjournment of each sitting. Senate's official attendance records show an average 64 of (62%) members present during each sitting.
On average, the sittings started four minutes behind the scheduled time while the average duration of each sitting remained two hours and 47 minutes. The Chairman attended ten out of 12 sittings and presided over 79% of the proceedings while the Deputy Chairman attended only two sitting and presided over 21% of the proceedings.
The Leader of the House attended 57% proceedings during 11 sittings while the Leader of the Opposition attended 60% of the proceedings during 10 sittings. The Prime Minister did not attend any of the sittings. According to the Senate's Rules of Procedure and Conduct of Business, 2012, the Prime Minister is required to attend the Prime Minister's Zero Hour (last half hour of each sitting) at least once in every week when the Senate is in session. Read More >>
Details